Organize your shoes by using instax photos. On a shoebox, paste a photo of the pair of shoes inside. This shows what is inside at the first look, moreover, looks attractive.
Step 1
Take a picture of the shoes contained or to be contained in a shoebox by using your instax.
Step 2
Put the shoes in the box, label the box with the photo, store the box having the photo visible.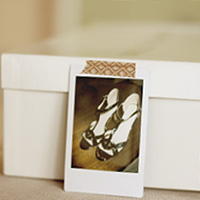 Step 3
Find your favorite shoes at a glance by using this well-organized storage system.